We at Irish Red Cross have spoken much in recent times about the importance of the protection of humanitarian personnel in situations of armed conflict. Humanitarian personnel are afforded protection under the law of armed conflict or
international humanitarian law
(IHL) on the basis that they are not taking direct part in hostilities. Such protection is also afforded under both
treaty-based
and
customary IHL
to the sick, wounded, shipwrecked, prisoners and civilians, as well as religious and civil defence personnel. It also likewise applies, in this the week of
World Press Freedom Day
,  to journalists who in the course of their work often seek out military activity and thus are exposed to increased danger of death or injury. Without doubt, with advances in global information and communications technology, it is ever more difficult to determine who is in fact a journalist in the traditional sense of the word but regardless, the concept of protection of those
not taking direct part in hostilities
remains fundamentally the same. It is also increasingly perceived that access to such technology is making the world a flatter place and accurate impartial reporting from conflict environments can have a significant impact on both local and global perceptions, and hence outcomes, or armed conflicts. As a consequence, there is concern in some quarters that journalists face a greater danger today of being deliberately targeted, or obstructed, in their capacity as communicators or influencers or shapers of opinion, rather than as an unintended consequence of military activity.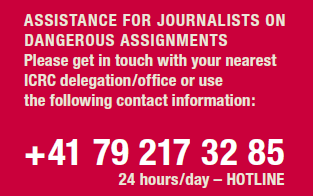 The welfare of media professionals who may be attacked, injured, taken captive or disappear in wartime or in other situations of violence and respect for their protection under IHL is very much a concern for the Red Cross and needless to say is an important component of efforts to raise broader understanding amongst arms bearers, journalists and the broader civilian population alike. What is often less known is that since 1985, the International Committee of the Red Cross (ICRC) has provided a humanitarian service in the form of a permanent confidential
hotline
  available to journalists themselves, their employers and families to contact ICRC who then may be able to take prompt and effective action in accordance with their
mandate
in areas where the ICRC is conducting humanitarian activities.
Since the beginning of 2011, over 60 media professionals working in violence-affected areas have requested the ICRC for assistance. Such statistics and in particular recent high profile incidents involving journalists in conflict settings, competition amongst news agencies for ever more dramatic and higher impact imagery as well as the increasing prominence of the
embedded journalist
would suggest a convergence of factors likely to make this an ever more relevant and complex topic of debate both now and in the foreseeable future. Should you wish to earn more about IHL and the protection of journalists, please click
here
.