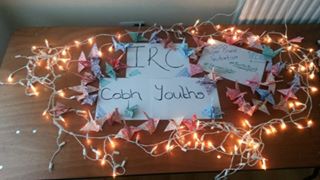 On Saturday, 25th October, Irish Red Cross Youth members around Ireland took part in 1000 Paper Cranes, a global campaign to raise awareness of the humanitarian consequences of nuclear weapons. 350 youth members in counties Dublin, Claire, Cork, Meath, Cavan, Donegal, Tipperary and Galway came together to create over 1000 paper cranes which they then displayed around their local communities.

An estimated 16,300 nuclear weapons still exist nearly 25 years after the end of the cold war. Today, nine states are believed to possess nuclear weapons, but as nuclear technology is becoming more available, more states, and even non-state actors, may strive to develop nuclear weapons in the future.

Irish Red Cross Youth were joined in the awareness campaign by Red Cross and Red Crescent youth members in 13 countries, including Norway, Pakistan and Colombia. Sandra Stanley, Irish Red Cross Head of Youth and Volunteer Development, said "It is hoped that the involvement of such a large group of young people nationally and globally will raise awareness amongst the public ahead of December's conference in Vienna."

The state led conference on the Humanitarian Impact of Nuclear Weapons is being hosted by the government of Austria and aims to strengthen the global nuclear disarmament and non-proliferation regime and to contribute to the growing momentum to firmly anchor the humanitarian imperative in all global efforts dealing with nuclear weapons and nuclear disarmament.

Irish Red Cross Youth, a department of the Irish Red Cross, has more than 1000 youth members in Ireland. Irish Red Cross Youth members take part in local and national activities aimed at empowering young people with skills and training in areas such as first aid, personal development and international and cultural understanding.
The Irish Red Cross runs a series of events and disseminates the latest news and facts as part of a nuclear weapons disarmament campaign. For more information please sign up to the newsletter: http://bit.ly/1rnk8Xb
Media enquiries: Rebecca Dunne, Communications Executive, on 087 743 3275 /rdunne@redcross.ie/ 01 642 4628