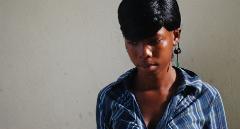 Today, Lopou Topou is feeling much better. She smiles as she can now lift her shoulders. Bruises and wounds that cover her body are also starting to disappear. She is 20 and like many girls her age, she has a new hairstyle. Not only to be beautiful, but to "forget the ordeal she experienced," she says. A few days ago, this young woman who is volunteering with the Red Cross in Guinea was beaten, along with a fellow volunteer, by an angry mob in the town of Forecariah, Western Guinea, while attempting to provide a safe and dignified burial for a woman suspected of dying from Ebola.
"At first, the family did not accept our interventions but after sensitisation and education, they accepted and provided us water to prepare the chlorine solution. Suddenly, an angry mob started to throw stones at us, as some of them believe we will spread the virus while disinfecting the house," explains Lopou.
The team started to flee, but Lopou fell. The crowd caught her and started to beat her using their fists, feet and wood. Exhausted and sprawled on the sand, she remembers hearing her assailants talking about going to get a knife to kill her.
The assailants chased away Lopou's colleagues, leaving her alone and injured in a community full of mistrust and anger. "For a while, my feeble cries for help went unanswered," says Lopou. "Thankfully, I was saved by a stranger on a motorcycle who lives in the community and who drove me out of the village."
The importance of psychosocial support
Lopou was transported to a clinic in the capital of Conakry, traumatized and suffering from shock. "When we met Lopou at the Red Cross headquarter in Forecariah, she was frightened. She was locked in a room by herself, in total silence, avoiding people," explains Babacar Sanoko, a psychologist with the Red Cross who provided her psychosocial support.
Lopou says she will continue to fight against Ebola, even if her family is trying to convince her to stop the work. "I am not discouraged. It's not the time to give up because there is still a lot of fear and misunderstanding, and some communities which have only just been affected by the Ebola virus. They are still not well educated about the disease, so we need to provide them with accurate information," says Lopou. "There are also a lot of rumours about our job and that of other responders. Rumours spread faster than truth."
Rumours about Ebola
Over the past few weeks, false information and rumours about Ebola have gripped many communities in Conakry and other regions, destabilizing operational teams, creating panic, raising mistrust, and hampering communities' understanding and cooperation.
Red Cross volunteers were threatened in some communities, as were teams working for other aid organisations. An intensive communication campaign involving the Red Cross has been organized to help put an end to those rumours.
For Aliou Boly, a Red Cross country representative in Guinea, "community education and mobilisation efforts will be intensified in order to build trust with the communities, as we will not be able to stop the disease if there are still misconceptions about how Ebola is spread and people are preventing aid organizations from doing their work."
It is not the first time Red Cross teams have faced insecurity, but as Boly explains, "the recent attack against our volunteers was serious and scary. It is unfortunate that our brave volunteers who are putting their lives at risk to stop the Ebola outbreak have themselves been attacked because of fear, rumours and denial which are rampant in some communities."
Since the beginning of the outbreak, the Red Cross has been actively engaged in social mobilisation and education in order to dispel the rumours and myths surrounding the Ebola disease.