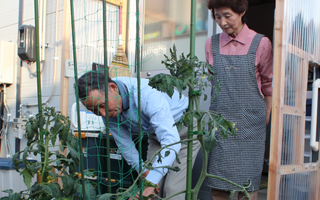 Sometimes a couple of tomato and cucumber plants in a pot are just what they seem. But sometimes they can be a symbol of a whole lot more: in the case of Yuki Kumagai and his wife Teruko, whose house was destroyed in Japan's fearsome Tsunami, they are just a little bit of home.

"We had all our important documents stored in a safe place, so we were able to keep hold of them." But that was just about all they were able to salvage, says Mr. Kumagai, 74, as we chat to him, standing on the porch of the couple's prefabricated temporary home on the grounds of Junior High school.

It wasn't his first experience of a tsunami. "About 35 years ago, when there was a big earthquake in Chile, we had a tsunami here," said the semi-retired administrator of a care home for elderly people.

But this was far and away the most catastrophic that people have witnessed. From the vantage point of the old people's home, he watched the couple's house being swept away. Luckily, he and his wife were able to drive to safer ground.



Not everyone was so lucky. Among the few recognisable objects in the mass of debris that still remains – although it is being processed by mechanical diggers pecking at it like giant vultures – are the cars that have been crushed and mangled by the force of the tsunami as if by a garbage compactor.

"Only the lucky first 30 per cent of the cars made it to safety," before the others got caught in a traffic jam, which spelled doom for many of their occupants, says one survivor in the town of Otsuchi, further down the devastated coastline.

Yet we can see that amid all the destruction, Mr. and Mrs. Kumagai, are slowly getting their lives back together again. Like tens of thousands of other families recently moved into temporary prefabricated housing, they've been given a package of electrical household appliances (refrigerator, washing machine, rice cooker and microwave oven, hot water dispenser) by the Japanese Red Cross Society (JRCS).
"We're extremely grateful for this help, because it would have been hard for us to find the money to buy these things ourselves," says Mr. Kumagai.

While the household appliances have been financed by donations received through foreign Red Cross and Red Crescent Societies, the Kumagais have also received a cash grant, distributed through the local government, but made up of money donated to the Japanese Red Cross directly.

"A lot of that money has been vital for food and basic necessities," says Mrs. Kumagai

The couple have been told they'll have to spend at least two years in this temporary home, before they can expect to move into a new permanent housing.



When you consider the enormous task of clearing the debris, of finding safe land to build on and of resurrecting the infrastructure in this remote but still highly developed region, that seems like a tall order in itself.

The Kumagais will gain consolation from their tomato and cucumber plants.
"We'll eat the cucumber with miso paste," one of the staples of Japanese cooking, says Teruko Kumagai. But the practical support from the JRCS and the local government will play a vital role too.

For the latest videos see Youtube.com/IrishRedCross