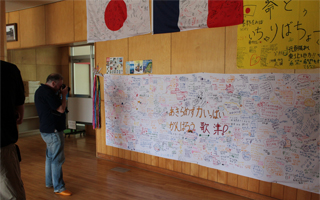 Over one hundred days have passed since the March 11th earthquake and tsunami laid waste to almost 600 km of Japan's North East coastline. Gone are the helicopters, fire trucks and thousands of self defense personnel involved in the search and rescue effort. Now, the contractors have moved in and this post apocalyptic landscape is largely populated by one armed mechanical excavators sifting through the wreckage metre by metre. It is estimated that clearing the 25 million tons of debris and rubble left in the wake of the tsunami could take up to three years.


Priority has been given to clearing access roads and restoring power and water supplies to the populations remaining in these ghost towns. The government has now built close to 30,000 pre-fabricated temporary houses, each of which has been equipped by the Red Cross with a TV, refrigerator and other electrical household appliances that are common to every Japanese home. However, many survivors have been reluctant to leave the evacuation centres. Dr. Toshiharu Makishima has been coordinating the Japanese Red Cross psychosocial support programme in the North East. He understands why so many of temporary homes remain empty. "Some are too far away from people's places of work and the camaraderie of being together with other people in the centres, particularly for the elderly, has helped in the healing process. They don't want to be alone."

Certainly the mood has changed in the centres. Three months ago, people crowded the floor of the junior high school gymnasium in Rikuzentakata where they huddled motionless under blankets in a state of shock; now there is a rhythm and flow to life here. Volunteers serve three regular meals a day and families have erected cardboard partitions to have some privacy from their neighbours. Play areas and an internet station have been set up for children. Gone are the messages pinned to the notice boards placed by desperate people searching for missing relatives, replaced instead by messages and drawings of hope and solidarity sent from around the world, "Be strong Japan, we are with you," reads one from school children in Zagreb. "We are praying for you", says another from a youth group in Madrid.

Red Cross nurse, Takako Inoue, has been working as a caregiver for the elderly and infirm who have a specially designated section in the evacuation centre. "People still have sadness in their hearts but while they still cry - they are now able to laugh as well," she says. It is clear that the sense of common purpose and unity in Japanese culture has bound people together in their resolve to come through this tragedy.


Of the 150 schoolchildren at Isatomae primary school in the town of Minami Sanriku, 64 lost their homes and some lost family members. The tsunami swept up to the ground floor of the school, which sits high on a hillside at least 25 metres above sea level. There are few jobs here and some of the children have been left with relatives as their mothers or fathers seek work in other towns.

"The children look out of the window and see the ocean every day," says Ms. Toshiko Kanno, deputy principal at the school. "They still find it difficult getting used to the constant aftershocks and when it's stormy at sea, they worry that another tsunami is coming." The teachers have made special efforts to lay on extra-curricular activities such as magic shows and concerts. "It's more difficult for the few children whose parents are still missing," says Ms. Kanno. "Not finding the body means they can't move on. Some families have now decided to hold funerals."

Returning to one of the worst hit towns, Otsuchi in Iwate Prefecture, it's evident that a huge amount has been achieved. This is a town that literally disappeared from the map. The tsunami claimed the lives of 1,600 people – 10 per cent of the population. Almost a third of the 140 government officers in the town, including the Mayor were killed when the waves swept through the local government headquarters where they were holding a meeting. Now, a steady stream of trucks filled with debris ply the road, heading for neighbouring Kiri Kiri, a once picturesque fishing harbour, now home to a growing mountain of tangled metal, crushed cars, splintered wood and cement.

In Otsuchi, a prefabricated office now sits in the midst of this barren wasteland where Mr. Tatsuya Sekiya, an officer at the social welfare division works with his team. To help people get back on their feet, funds collected by the Japanese Red Cross are being handed out in the form of cash grants through local government prefectures and Sekiya's role is manage the application and disbursement process.

To qualify for a grant, individuals have to provide proof of residence after which they receive a certificate of damage and are registered to receive updates via mobile phone on the application process. So far, grants have gone out to 3,000 of the 4,000 people in Otsuchi who have applied.

Mr. Sekiya and his young team are committed to building a better future for the town. Like most coastal communities in the area the local economy in Ostuchi was built around the fishing industry but the tsunami destroyed 700 boats - most of the fishing fleet. "It's harder for the older generation. My father is over 50 and used to fish for sea urchins. He now has casual work cleaning up the port."

The long term challenge will be how to rebuild towns like Otsuchi. Special committees have been set up to look at all aspects of planning and reconstruction which may include new areas of public housing. Many people who lost their homes could not afford earthquake and tsunami insurance and will be unable to rebuild themselves. But decisions around reconstruction not only rest with the town, but at the prefecture and national levels. One thing is for sure - despite the progress made so far, it will be many years before towns such as Otsuchi really come back to life.

For the latest videos see Youtube.com/IrishRedCross

Follow the Irish Red Cross on Facebook and Twitter