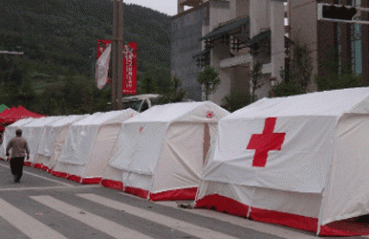 Emergency Red Cross teams have launched a major operation to help survivors of a 7.0 magnitude earthquake in an area of southwestern China's Sichuan Province. The same area was hit by a devastating quake in 2008, while early reports indicate that this earthquake is not as destructive as that in 2008, it has toppled buildings, triggered landslides and disrupted phone and power connections in mountainous Lushan county.

Teams of volunteers have been deployed in the worst-hit county of Lushan, about 140km from Sichuan's provincial capital, with supplies of food, water and medicines. Red Cross staff have put up 500 tents mobilized from the organization's Chengdu Disaster Preparedness Centre.

Additional relief supplies and teams are on the way, with 5,000 family kits containing household items, 5,000 quilts, 5,000 jackets and another 1,200 tents are being mobilized.

Rescue workers on the scene say needs remain considerable, with 120,000 people in need of temporary shelter, food, drinking water and medicines.

"Tonight and tomorrow, we need to provide affected people with water, food and psychological support, and hygiene and sanitation supplies," said Wang Jialun, Head of the Sichuan branch's First Aid Training and Emergency Response Department.

He was travelling with a team of four volunteers, trying to get from the city in Lushan county to the badly-hit township of Longmen. But the team's vehicle was stuck as of Saturday early evening, with a collapsed house blocking the road ahead and traffic backed up behind.

"The most urgent thing is to clear the roads because there are many injured and the more time passes, the more dangerous it is for their condition."

Some residents encountered by the team on the road have been trying to get to the worst-affected areas on foot, despite landslides and falling rocks on the way, worried about the fate of their families in the area.

Migrant worker, Zhang Zhimin, 46, was on his way home to visit his family from his workplace, when he felt the powerful earthquake. Unable to make contact by phone or get transport, he set out to walk, a trip which would take several hours.

"I had no food or water, but despite that, I am so worried about my family that I decided to walk on," he said.

With night now descending on the mountainous and remote area, many residents remain too afraid to go back indoors.

The area was badly hit by the 2008 earthquake, killing tens of thousands and destroying thousands of homes. Red Cross workers say that the newer structures, built with greater earthquake resistance after that disaster are largely standing, at least in the county town, although many are cracked.

Buildings more vulnerable to collapse appear to be those older tile and timber homes which withstood the 2008 quake.

Local authorities have also said that several dams and reservoirs in the area have developed cracks and are being checked to evaluate the risk.
Photo: Red Cross tents in Lushan county. Red Cross Society of China
Original report by Kevin Xia in Lushan and Francis Markus