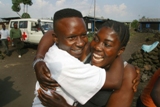 Dear Member

Imagine how distressing it would be to lose contact with your family and not know where to turn to find them or how to get a message to them. The activities offered under the Restoring Family Link (RFL) are unique to the Red Cross and help maintain contact between families who have been separated. Knowing what has happened to family members left behind or those who have migrated around the world is vital to those who are seeking to find their loved ones.

There is something you can do to help. I would ask that you click on the following link: - Complete Survey - and complete the questionnaire so that we can better understand where our activities could be of benefit to those who require them. The Irish Red Cross Restoring Family Links service recognises that if it is to respond to the needs of those who are desperate for contact with their lost family members, there is a necessity to regionalise our RFL services so that they are accessible to those who seek to use our service. By completing this survey you will be playing an active part in helping us in our quest to reunite families. I thank you in advance and look forward to receiving your response.

Kind regards

Yours sincerely

Jennifer Wilson
Administrator – Restoring Family Links
International Department.