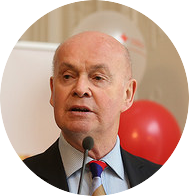 Chairperson: Pat Carey
Pat was a TD for nearly 14 years and has extensive experience in public policy at national and international level and has chaired or been a board member of many organisations. Pat is the first independently appointed Irish Red Cross chairperson. As a minister Pat was responsible for community development policy, social inclusion, Irish language policy, cross-border matters in the area of language, culture, waterways and rural development, the National Drugs Strategy and family, equality and integration policy. Pat also had responsibility for charities regulation and developing dormant accounts.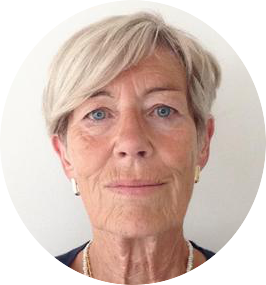 Vice-Chairman: Olivia Mitchell
Olivia Mitchell is a well known and regarded national politician. She is qualified with a Bachelor in Arts in Economics and Politics. She began her career teaching economics and became involved in politics as Councillor and later Chair of the Local Authority. She was elected to the Dáil in 1997 and has served on the Fine Gael front bench as spokesperson on Housing, Health & Children, Arts, Sports & Tourism, Communications and Transport.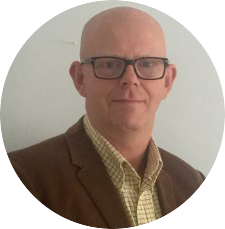 National Treasurer: Brian Byrne

Brian has been a member of the Irish Red Cross since 1979. In that time, he has held various positions at Unit, Branch, Area, and National levels including Deputy Area Director of Units, Area Chairman, member of the Audit+Risk Committee, member of the Training Working Group and member of the National Unit Management Committee. Currently, Brian is a General Assembly representative for Dublin Borough, National Treasurer and Board Member, Chair of the Finance Working Group, member of the Governance Working Group and the Dublin Borough Area Treasurer. Brian is one of the Trustees of the Irish Red Cross DC pension scheme. He is also the Board's representative on the Youth Working Group and is actively involved with his Branch's Youth/T-bear Group. Brian has been employed by RTÉ since 1983 and presently works in the Radio Advertising Production Department. He is also a member of RTÉ's Advertising Copy Clearance Committee, ensuring compliance with all statutory requirements. He has also held the voluntary positions of Chairman of the Supervisory Committee of the RTÉ Credit Union and Treasurer of the RTÉ Childcare Co-operative.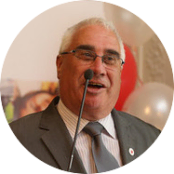 National Secretary: Ted Noonan
Ted joined the Irish Red Cross in 1968 as a member of the Cork City Branch and later joined the Mallow Branch. As a branch and unit member, Ted is a very active volunteer and has served in various positions such as Area Vice-chairman, Unit Officer, Assistant Area Director of Units and Area Director of Units Cork . At a National level, Ted is currently the Chairperson of the Volunteer Support and Development Working Group, and holds the position of Regional Director of units (RDU) South. Ted is currently the Irish Red Cross representative on the Voluntary Emergency Services South (VES South) and was the first elected chairperson of this forum (2009 -2011). This forum is set up under the Framework For Major Emergency Management. Ted is very proactive in developing community resilience programmes in his region. During the winter crisis, floods and emergencies from 2009 to 2018, he coordinated the IRC crews in the Southern Region which responded to many calls outs. In 2010 he received the REHAB Cork person the year award for his voluntary work with the Irish Red Cross. Ted recently took early retirement from Eircom after 42 years' service where he started as a technician and was promoted to various managerial roles and held positions in the access operations, HR , Health & Safety and change management.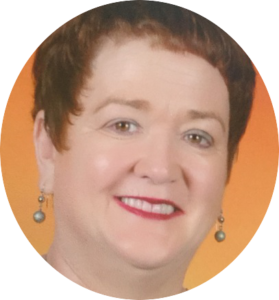 Board Member: Julie O'Brien
Julie joined the Irish Red Cross in 2004. She is a member of the Bailieborough Branch in Cavan. Since joining the Irish Red Cross, Julie has been actively involved in the Society at both Branch and Area level. Julie is the current chairperson of the Bailieborough Branch, the Area Treasurer for Cavan, and is the current General Assembly Representative for Cavan. Julie is also on the Finance Working Group and the Health and Safety Forum. At all these levels, Julie has taken on responsibilities to always help seek to progress the Society with a view to securing its long-term future. Julie holds many First Aid qualifications. She is an EMT and holds many other qualifications including CFRC, CFRCI, CFRA and OFAI. Julie is also a People Moving and Handling Instructor. Julie is the current Deputy Area Director of Units in Cavan.Professionally, Julie is the owner of her own healthcare-training company, teaching various healthcare and childcare courses in adult education. Julie has served on the Board of Management at both Killinkere National School and Bailieborough Community School.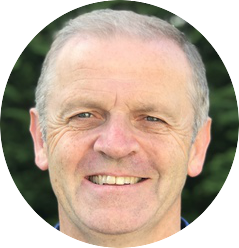 Board Member: Donal Lawlor
Donal has extensive experience over a 30-year career in accounting and finance in a broad range of industries. After graduating from university, he joined AIB where he worked in financial control. Later he became Finance Director of an international HR Consulting organisation. In 2001 he joined the Irish Management Institute (IMI) as Finance Director and Company Secretary. In this role, he was instrumental in many significant projects, including the planning and construction of the 50-bedroom IMI Residence. He then joined Autoglass as Head of Finance and IT. In 2013 he was appointed Managing Director of Autoglass and set about transforming the company with a strong emphasis on the use of IT and automation. Donal has also served as Chairman of the Audit Committee of both the National Council for Special Education (NCSE) and the National Disability Authority (NDA) along with serving as a director of the Irish Association of Pension Funds (IAPF).He has a degree in Accounting and Finance, is a qualified Chartered Certified Accountant (FCCA) and Chartered Management Accountant (ACMA/CGMA). He has an MSc. in IT and is a qualified Chartered Director >with the Institute of Directors in the UK.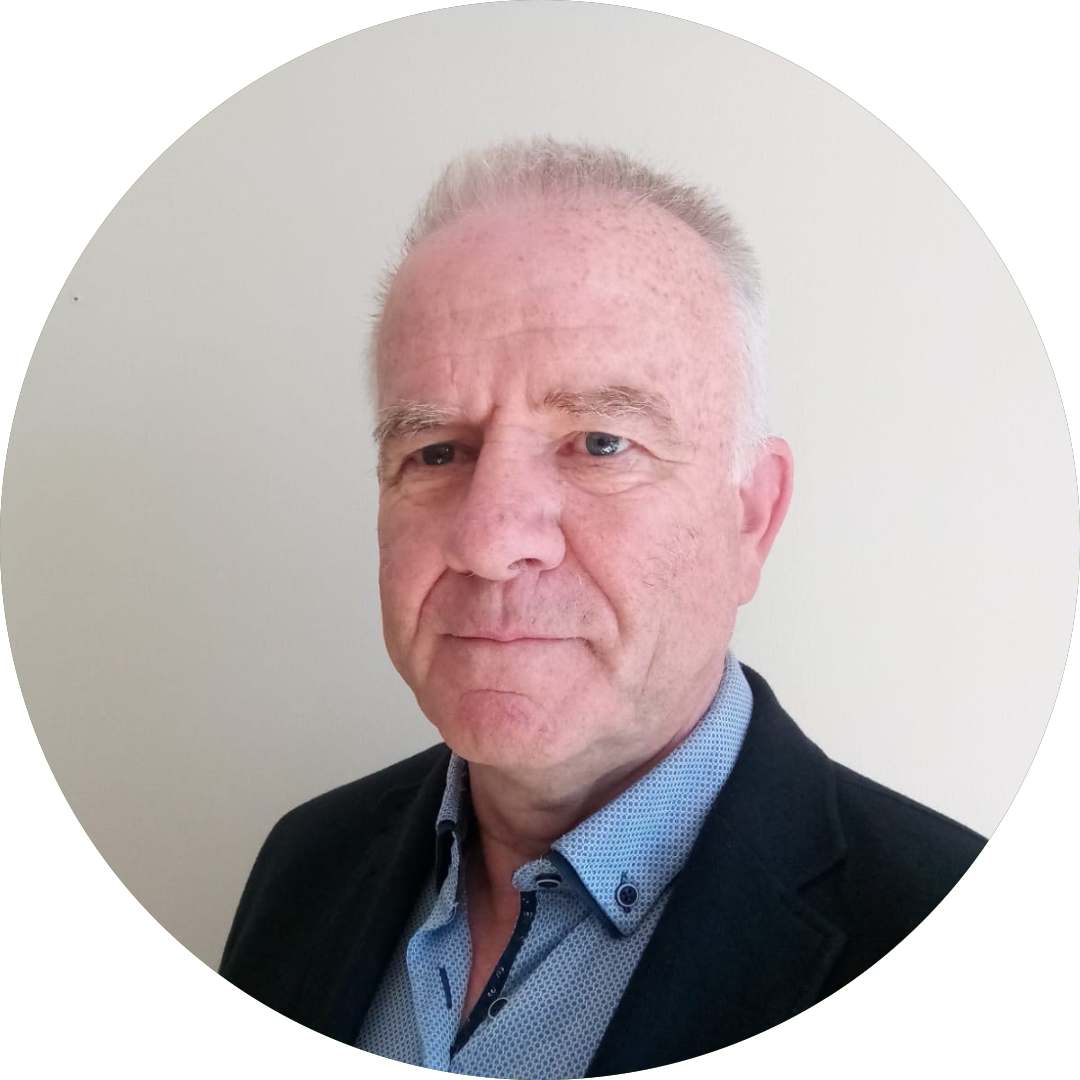 Board Member: Will Meegan
Will has been a member of Irish Red Cross since 1986 and has been actively involved in Unit operations and the Branch committee throughout that time, currently Chairing Dublin Borough Area committee. Will has also been an Instructor with Glenan's Irish Sailing club, a voluntary sail training organisation which operated three bases in Ireland. In his capacity as Chair, he attended council meeting with Le Glenans in France and lead a restructuring of the organisation in Ireland. While working as a Telecommunications Technician with Eir, Will has been an active member of the Communications Workers Union and is Chair of the Dublin No1 Branch committee. During the Covid emergency, Will hosted weekly online meetings with a team of Lead Worker Reps around the country and the Health & Safety team, to review and implement safety plans for eir staff and customers. He has been a member of the company's Risk Management group advising the Senior Management team on all Covid safety and wellbeing matters during the pandemic.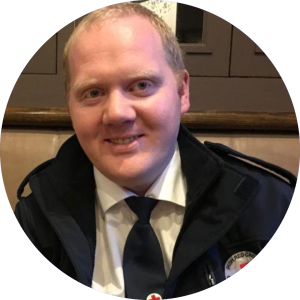 Board Member: Alexander Smyth
Alexander is from County Donegal and has been a member of the Society since 2011. He is trained as a CFR-A Instructor; EFR Instructor; Manual Handling Instructor, amongst other qualifications. He is an EMT for the Irish Red Cross and an Area Director of Units for the Roscommon Area since October 2015. Alexander is a supporter of the Red Cross in both volunteer hours and donations through his charitable giving and companies. He assisted both the HSE and the community on behalf of the Red Cross during the Covid-19 pandemic. He is an active promotor of animal welfare and supports and engages with a number of animal welfare charities. Amongst other qualifications in Science and related Healthcare fields, he has a BA., and LLB in law and is currently studying the Barrister at Law Degree in the Honourable Society of Kings Inns. He has extensive experience in governance of companies and is a director of several companies in the healthcare and veterinary sectors.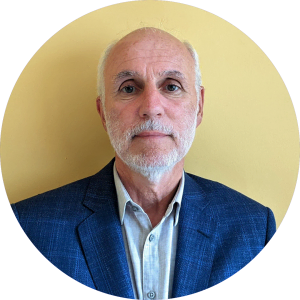 Board Member: Felix O'Regan
Prior to his retirement in 2020, Felix worked in the consumer and banking sectors: as CEO of the Independents Consumers Association of Ireland and as Director of Communications and Public Affairs with the Banking & Payments Federation of Ireland, the representative body for the banking and payments industry. In that time, he developed considerable experience in the areas of Media and Public Communications, Public Relations as well as in Public Affairs. Felix has experience of serving on Boards in an independent, non-executive capacity: Social Finance Foundation 2007-2016; Microfinance Ireland 2012-15; The Wheel since October 2021. Over the years he has collaborated with other not-for-profit bodies on specific projects, both professionally and personally e.g., Dublin Simon Community fundraising activities; his local GAA club, Clanna Gael Fontenoy, in the role of PRO for many years. He is keen to contribute voluntarily, with passion and commitment, to the not-for-profit sector. Felix is the new Government Representative to the General Assembly.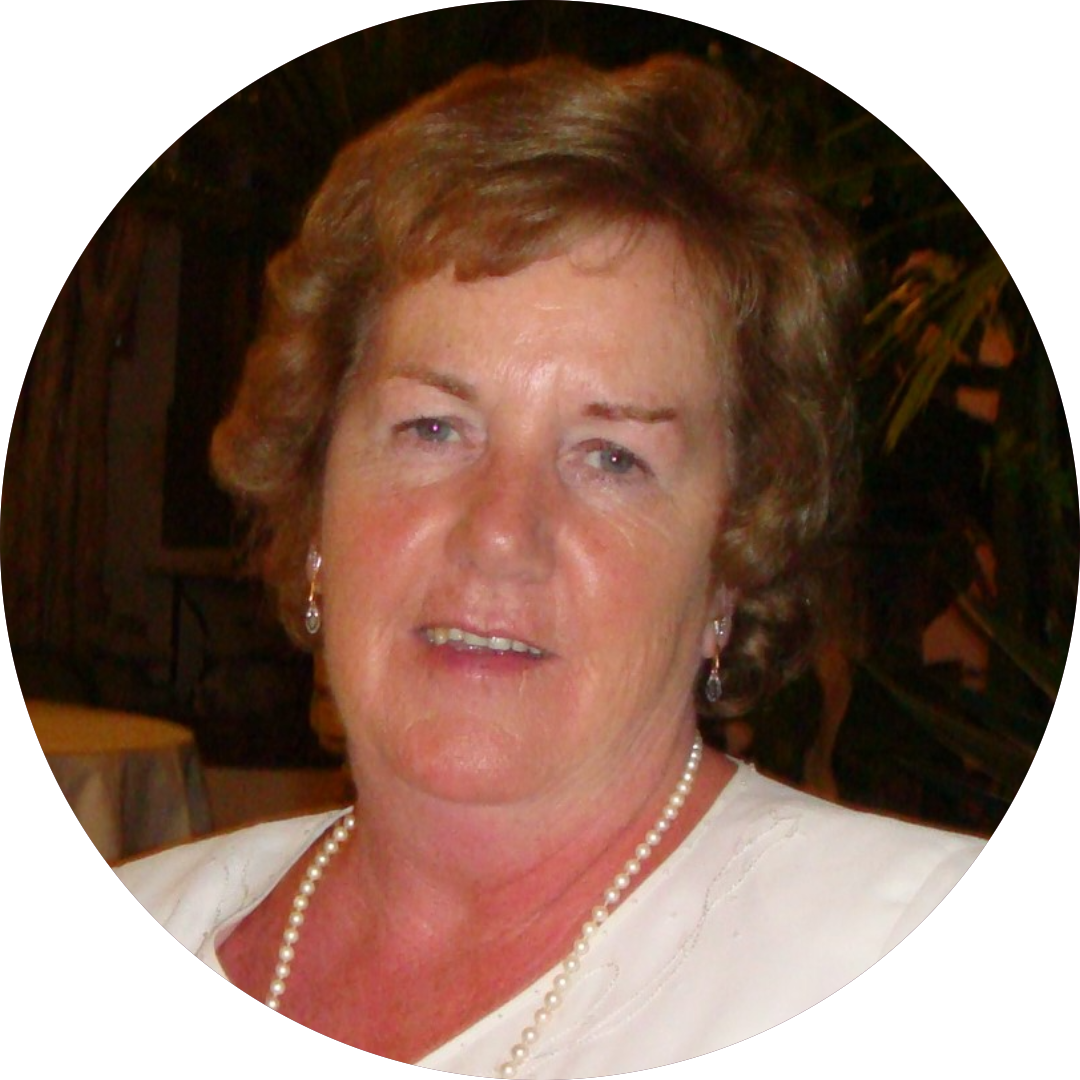 Board Member: Cepta Downling
Cepta Dowling is from Dublin and holds a Master's Degree in Social Enterprise and Innovation (2014) also a Bachelor's Degree in Further Education Management (2003), both from DCU. Having taken time out from her employment with AnCO, to rear her three children, she returned to the workforce in 1997 to start another phase of her career with FAS. She subsequently moved to Northside Partnership where she held responsibility for researching and implementing many innovative projects. Her years of experience extend over areas of human resources, policies and procedures, business start-ups, project management and, in recent years, governance and compliance. Since her retirement in 2013 Cepta has worked as a freelance consultant in the Community and Voluntary Sector. She is married to Jim, has three adult children and four grandchildren.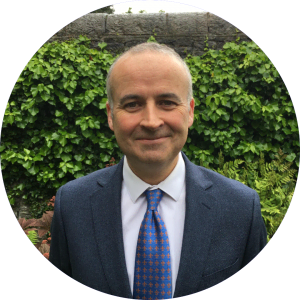 Board Member: Martin Long
Martin lives with his wife Liz and their family in Dunboyne, Co Meath. A graduate of UCD in economics, politics, and psychology, he holds post-graduate qualifications in legal studies, and in management and leadership. Martin has twenty-five years of experience in the not-for-profit, business and Government sectors. Martin is employed as director of the Catholic Communications Office of the Irish Bishops' Conference. He is a member of the Bishops' Council for Justice & Peace, which advocates on social justice issues, and was involved in organising the 2018 visit of Pope Francis to Ireland. Martin's work includes supporting the Bishops' Chaplaincy service in London which promotes the welfare and dignity of Irish prisoners, Irish Travellers and our elderly emigrants living in the UK. Martin also works in collaboration with the charity Trócaire to raise awareness about social and economic inequality in developing countries and the interrelated humanitarian crises of exploitation, displacement and climate justice. Martin previously worked as the public relations manager of Insurance Ireland, the trade body for life and non-life insurance companies and was an industry award winner for the design and management of the 'Anti-Insurance Fraud' multi-media campaign. Martin served as special adviser to the former Minister for Food, Ned O'Keeffe, and is a non-executive director of the NGO Glencree Centre for Peace & Reconciliation and sits on its Governance Standing Committee. Glencree works to prevent and transform violent conflict by engaging people in dialogue, trust and relationship building. Martin is a member of the board of management of Saint Peter's College, Dunboyne, one of the largest secondary schools in the country, and served as a local scout leader for ten years. A recognised leader in the field of media and communications, Martin was elected as a Fellow of the Public Relations Institute of Ireland in 2018.
Board Member: Anne-Marie O'Sullivan
Anne-Marie is a marketing and strategy professional with wide experience in delivering brand and sustainability strategies, programmes and communication to achieve business goals and impact. She has worked across a range of sectors including climate, food and health. In her previous role at Kerry Group as Global Director of Corporate Partnerships, Anne-Marie led corporate sustainability social impact strategy and programmes, including the company's global Covid response programme MyCommunity and the group's partnerships with the UN World Food Programme and Concern Worldwide. Prior to that, she worked in food ingredient marketing, as Strategic Marketing Director of Kerry's Applied Health & Nutrition division. She is an Enterprise Ireland Mentor, a former Board and Strategic Planning Director of McCann-Erickson Advertising, Dublin and has held various marketing and innovation roles at Diageo and Mars. She has a BA in Economics from Trinity College, Dublin. Anne-Marie enjoys being in the outdoors and spending time with her family.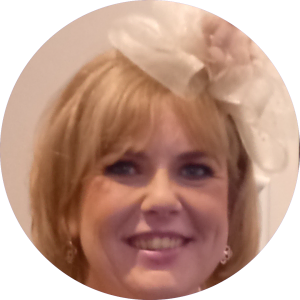 Board Member: Cliona Lehane
Cliona has been a GA Member for Kerry since 2009, previous Board member for 2 terms, and a previous member of Health and Social care working group for 2 terms. She is also a member of the Volunteer Support and Development Working Group and has served on the nominations committee for 2 terms. She is a current member of the Governance Committee.