As one of the most experienced charities in Ireland and as part of the world's largest humanitarian organisation, the Irish Red Cross is committed to ensuring that all our work is carried out to the highest standard and that we serve vulnerable communities in Ireland and overseas.
As with all charities in Ireland the Irish Red Cross has an official Irish charity number: CHY3950. All charities in Ireland are listed on the website of the Charities Regulator Authority.
The Irish Red Cross was one of the first charities in Ireland to adopt the voluntary Statement of Guiding Principles and is focused on maintaining its high standards of governance, its reputation for transparency and its good relationships with all of its funding partners.
The Society has implemented the Statement of Guiding Principles for Fundraising and the Dochas Code of Conduct for Images and Messaging. The Society has also committed to implementing in full the standards set out in the Governance Code. A confirmation of the up-to-date status of implementation can be found on the Irish Red Cross website here.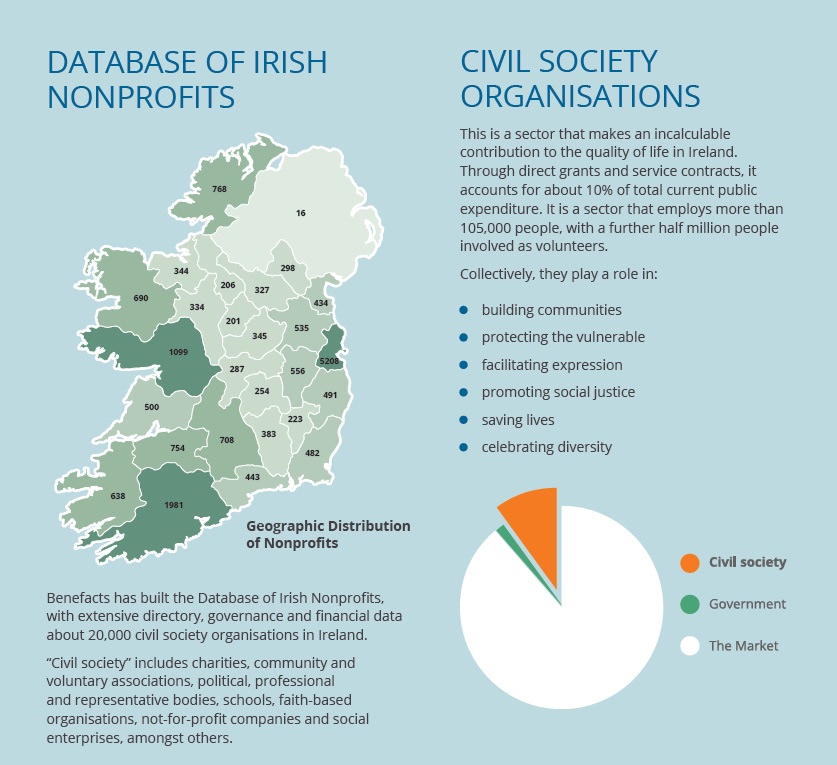 In 2016, Benefacts.ie, a public database of charities/civil society organisations in Ireland, was launched. The website provides extensive information about all charities in Ireland. Benefacts.ie collects public data under the Re-Use of Public Sector Information Regulations. It cleans, classifies, digitises and stores it in the Benefacts Database of Irish Nonprofits for easy access for anyone looking for information about charities in Ireland.


Goodcharity.ie
To help donors better understand charities in Ireland, Dochas, Fundraising Ireland, The Wheel and Whitebarn Consulting created a website called Goodcharity.ie. The website aims to help you, the donor, ask the right questions, such as:
What problem is the charity trying to solve?
Does the charity's approach to solving that problem make sense?
What has the charity achieved to date?
Is the charity signed up to any professional standards?
Does the charity make information on its finances publicly available?
If you have specific questions about the Irish Red Cross, please feel free to get in touch with us on 01-642-4600/info@redcross.ie.


Charities Regulatory Authority
The Charities Regulatory Authority (CRA) is Ireland's national statutory regulatory agency for charities in Ireland and was established on 16 October 2014 under the terms of the Charities Act 2009. It is an independent agency of the Department of Justice and Equality.
According to the legislation, the authority is responsible for a range of regulatory and advisory functions, including publishing a comprehensive list of charities in Ireland.
The Irish Red Cross looks forward to working with the CRA and assisting it in ensuring that all dedicated charities in Ireland continue to be world leaders in their field.