What is the Corn Adomnáin?
The Corn Adomnáin is an IHL competition organised by the Irish Red Cross for those with an interest in this area of law. The competition gets its name from the Cáin Adomnáin or the 'Law of Innocents' as it is often referred to. The Cáin Adomnáin is an early Irish IHL treaty that was signed in Birr, Co. Offaly in 697AD.
The competition involves a fictitious case study of a conflict and participating students take part in role-plays, simulations, and moot courts to explore key elements of IHL (e.g. use of autonomous weapons, urban warfare, protection of women and children, and healthcare). Their performance is evaluated by a judging panel composed of highly experienced persons in the field of international law. The Corn Adomnáin offers students a rich and stimulating experience that allows them to develop their understanding of IHL and its application.
2024 Corn Adomnáin
The next Corn Adomnáin competition will take place at Dublin City University on Saturday 23rd March 2024. Please see the below entry requirements to apply.
Entry Requirements
The competition is for students who are currently studying law in Ireland. Students will need to form teams of three and submit an application form to ihl@redcross.ie to take part.
Multiple teams from a university/institution can apply and we ask each institution to rank these applications in the event that the competition is oversubscribed. For further information on how we will select teams please see the application form above.
Applications for 2024 are now open until 31st January 2024.
Team Resources
The Irish Red Cross provides specific resources for topics that will be covered in each year's competition to assist teams with their preparations. The resources include reading lists and coaching and strategy tips.
There are also resources available from the International Committee of the Red Cross (ICRC), including the How does law protect in war? database which includes updated information, cases, and references in a user-friendly format.
The Irish Red Cross is available to deliver a presentation about its work on IHL and this competition to interested institutions. If your institution wishes to avail of this please contact us on the details below.
Contact details for more information
For further information and inquiries about the competition, please email Sarah West at ihl@redcross.ie or call (01) 642 4600.
2023 Corn Adomnáin
The latest edition of the Corn Adomnáin was held on 11th March 2023 at University College Dublin with teams participating from Griffith College, Maynooth University, UCD, UCC, Ulster University, Queens University Belfast, University of Galway, Trinity, and The Law Society of Ireland. The day involved lively discussions and scenarios based on a fictitious conflict.
Teams participated in role plays that examined the key issues of urban warfare, protection of the environment, protection of cultural property, detention in armed conflict, and the protection of women from sexual violence during conflict. These role plays were followed by a moot court judged by Judge Patricia McNamara (District Court), Justice Shireen Fisher (former President of the Special Court for Sierra Leone), and Hilkka Becker (Chairperson of the International Protection Appeals Tribunal).
The standard of the contributions by all teams was very high with UCD winning overall and a Best Speaker in the Moot Court prize awarded to a student from the University of Galway.
Below is the winning team from UCD: Dr. Amrei Mul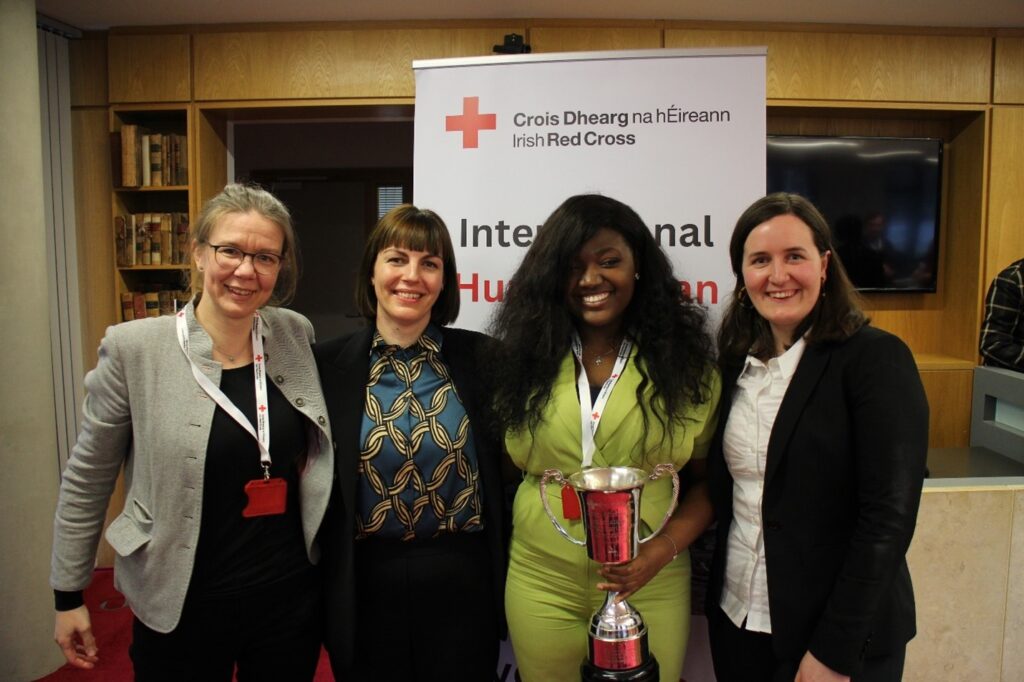 Best Speaker in the Moot Court: Pratiksha Ravindra Shetty from the University of Galway, photographed with Deirdre Garvey, Secretary General, Irish Red Cross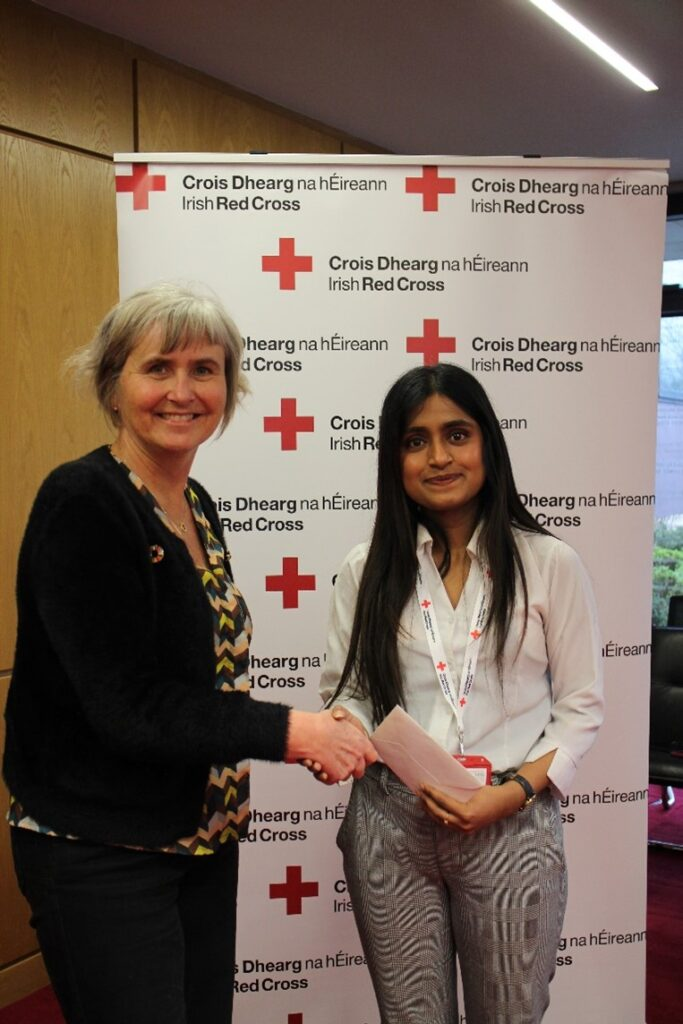 Last updated April 2023