You can contribute to our ongoing efforts in India.
India has the world's highest rate of tuberculosis (TB), accounting for more than a quarter of the global TB burden. Despite being preventable and curable, every three minutes, two people are dying of TB in India. 
Background
India is the world's largest democracy and has been one of the fastest-growing economies in recent years. However, due to its large population of over one billion people and uneven distribution of economic growth, the country is classified by the World Bank as a "lower middle-income" country. Poverty remains a major challenge with the UN Human Development Index ranking India 131 out of 189 countries and territories.
While health indicators have improved, the burden of communicable diseases is a matter of great concern. India is home to one of the highest incidence rates of tuberculosis worldwide, with around two million new cases per year. It also has the highest recorded rate of multi-drug resistant tuberculosis (MDR-TB).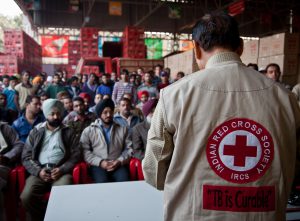 The Red Cross in India
The Indian Red Cross TB programme has been running since 2009. The programme supports awareness, care and support, patient counselling, information and education activities, screening camps and discussion sessions at the government health facility within the designated TB units.
Since early 2015, the Irish Red Cross has been assisting the Indian Red Cross in their effort to combat the spread of TB and to further control MDR-TB through a prevention and management of TB programme. The project focuses on difficult to reach and low performing areas of two districts namely, Amritsar and Jalandhar in Punjab State.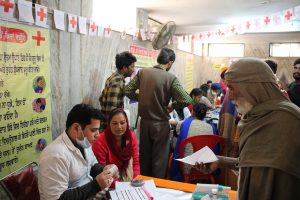 Our TB Prevention Programme
Screening for TB, in particular suspected missing TB cases in marginalised communities is one of the several interventions we use to improve early TB detection. We do this through intensive TB awareness drives, using loud speakers and leaflets, which provide information about TB symptoms, how it spreads and the treatment for it. Through these campaigns we also seek to reduce stigma around the disease and the discrimination due to it.
The programme also prevents these patients from converting to the dangerous MDR-TB, which is very important as MDR-TB is much more of a threat than TB – not least because its treatment is 200 times more expensive than regular treatment. This treatment also takes a long time and carries a high mortality rate.
By the end of 2020 the programme was achieving a success rate of 99% adherence to treatment. This is a staggering success given the minimum objective for government-led programmes is set at 85%. Throughout the course of the programme implementation, the project through direct and indirect interventions reached more than 600,000 people.
Our response to COVID-19
With 21.9 per cent the country's 1.3 billion population living below the poverty line, the COVID-19 crisis places millions of already marginalized people at further risk. TB and COVID-19 are both infectious diseases that attack primarily the lungs. While experience on COVID-19 infection in TB patients remains limited, it is anticipated that people ill with both TB and COVID-19 may have poorer treatment outcomes, especially if TB treatment is interrupted.
In March 2020, the Government of India declared the Red Cross an essential service provider. Since then we have mobilised our extensive network of trained volunteers to conduct community outreach, including prevention awareness activities, hygiene promotion and countering rumours and misinformation. Furthermore, the Red Cross provides essential relief to at-risk communities, including patients enrolled without our TB programme, and we are distributing personal protective items such as masks and gloves, cooked meals, dry rations, medicine and other essential items.
*Updated May 2021