The Irish Red Cross is a member of the wider Red Cross Red Crescent Movement. This includes the International Committee of the Red Cross (ICRC) and the International Federation of the Red Cross (IFRC).
The Red Cross Movement has three globally recognised emblems – the red cross, red crescent and red crystal. These are recognised in the 1949 Geneva Conventions and their Additional Protocols. In Ireland, this is recognised under the Red Cross Act 1938.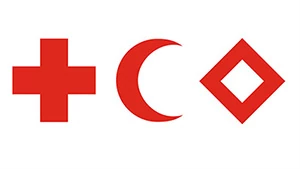 In times of armed conflict, international law protects those wearing the emblem and buildings and vehicles displaying them and signifies that they are protected under international humanitarian law. Parties to an armed conflict they must not attack anyone or anything that displays these emblems.
They are also used in times of peace to indicate persons, vehicles or structures linked to the Red Cross Movement. This is why the Irish Red Cross incudes the red cross emblem in its logo.
Protecting the emblem – How you can help
These emblems are symbols of neutral and independent assistance. In order to protect the meaning of these emblems and prevent any misunderstanding or uncertainty, it is vitally important that they are not misused or abused. We rely on people to report when they see the emblem being used incorrectly so that we can ensure this is changed and the meaning of the emblem is protected.
Unauthorised use of the emblems is prohibited under international and national law. If you suspect misuse of one of the emblems, or of the names "Red Cross, "Red Crescent" or "Red Crystal" please let us know by contacting swest@redcross.ie or calling +353 (0)1-642-4600.
Last updated April 2023